裏 | Ura
Jingumae, Tokyo
Oct, 2023
Direction: Mihara Yasuhiro
Interior Design: Insideout ltd.(Hiroto Kubo, Irene Alonso)
Construction: Ishimaru co.,ltd. + Mihoya Glass Co., Ltd.
Lighting: HIBIKI, Inc.
Stone: Takebayashi Stone Masonry Ltd.
Logo: KIGI
http://urajingumaebldg.com
Jingumae Bld.B1F, 2-17-6, Jingumae, Shibuya Ku, Tokyo To, 150-0001, Japan
掲載 |
World Architecture Community
|
SuperFuture
|
Arch Daily |
AXIS web magazine |
honeyee.com
|
WWD
PHOTO: KOZO TAKAYAMA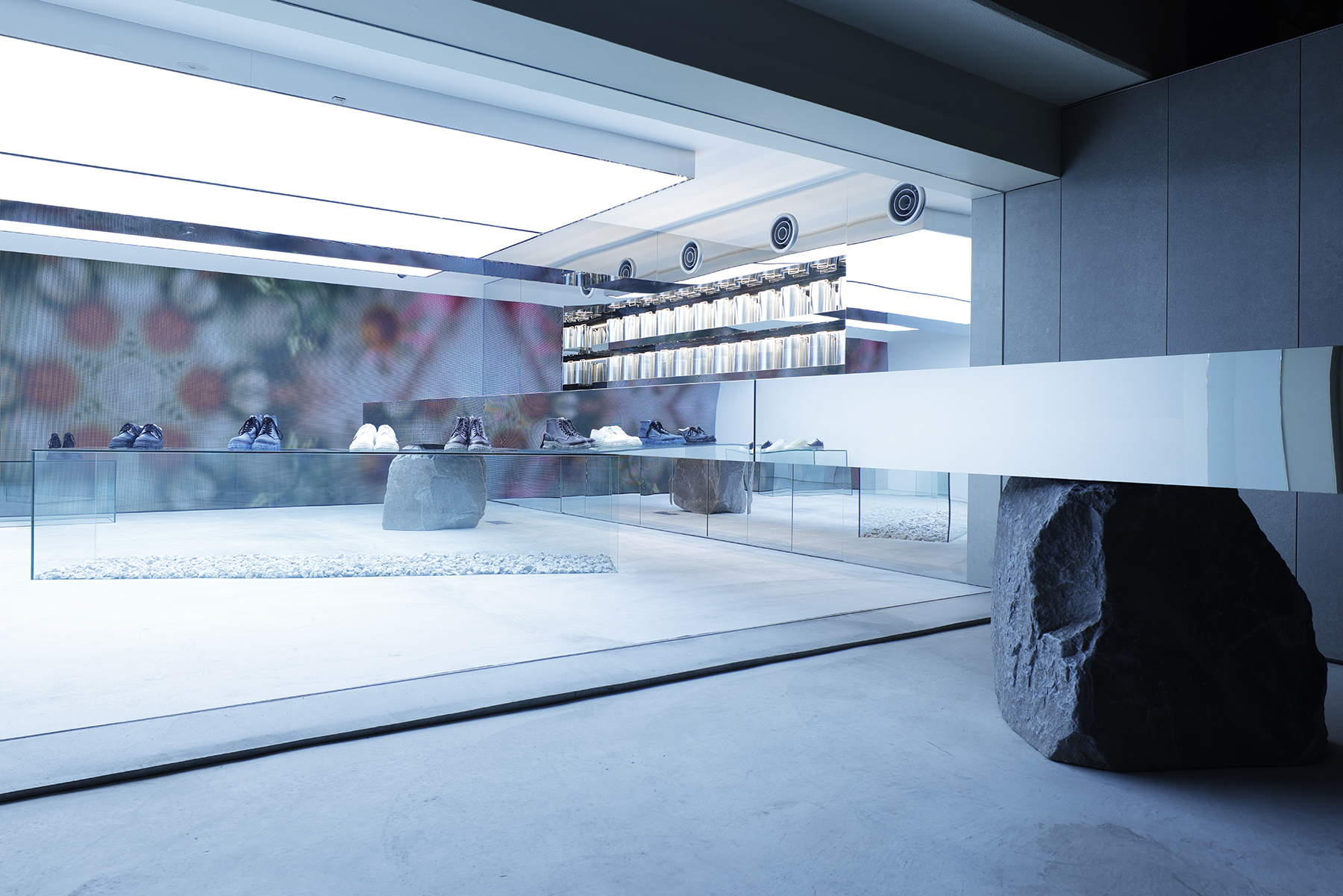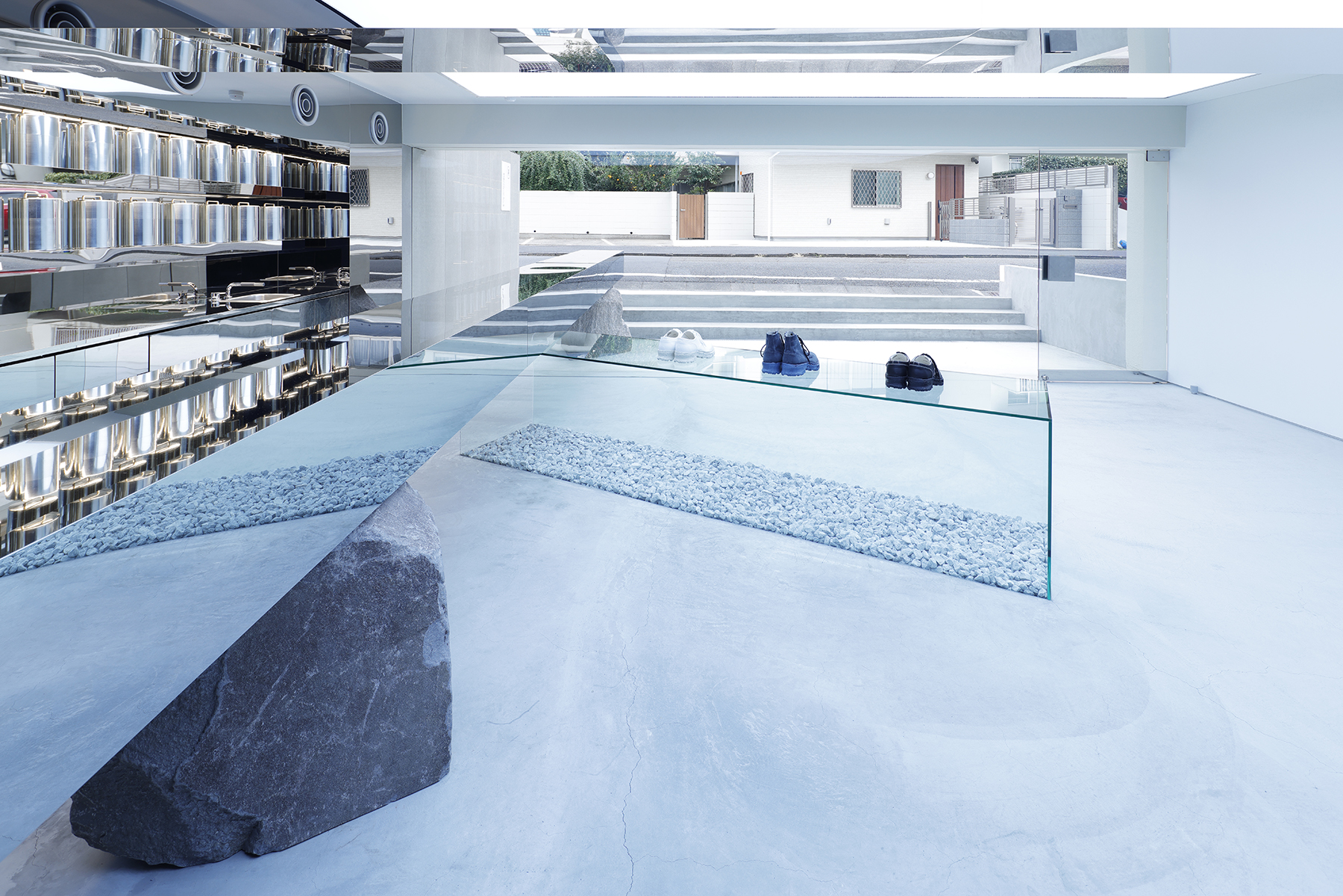 ファッションデザイナー 三原康裕が、環境的、社会的責任を多面的な観点から考慮したプロダクトを扱うコンセプトショップ。店舗が立ち並ぶ原宿・神宮前の裏通りにある、ひっそりとした半地下の狭い区画。室内と外部の境界線を弱め、向かいの住宅敷地まで領域が拡張されたかのような店内は、全面LEDスクリーンやガラス、鏡面、石材の質量の対比が効いたミニマルな空間。
2つの石材の上に据えられた鏡面の「直方体」が室内から外部へ突き抜けて飛び出している。公共空間のコンセプチュアルアートのように、特定機能をもたない不合理なボリュームと無駄な余白が、商品が定まらない実験的な店舗に、フレキシビリティと転用の可能性を残している。このブランドらしからぬ裏面的に捉えた緊張感のあるデザインにプロダクトが溶け込まずに、背景としての「面や線」と「点」となる商品のコントラストが際立っている。
鏡面の「直方体」は、石材上面にアンカーボルトで固定し、片持ちした端部をガラス面にシール接着で固定。ガラスを挟んで、内外で続いているかのようなディテールとしている。住宅エリアとの際において、店づくりや商業インテリアデザインのセオリーから離れ、小さな事件を起こしたかった。
"Ura" means "backside,oposite,behind,reverse" in Japanese.
Concept shop by fashion designer "Mihara Yasuhiro" dealing with products that take into account environmental and social responsibility from a multifaceted perspective. A quiet, narrow, semi-basement plot on a back street in Harajuku/Jingumae Tokyo. The interior of the shop, which weakens the boundary between inside and outside and seems to extend the area to the residential site opposite, is a minimal space with full LED screens and contrasting masses of glass, mirrored surfaces and stone. A mirrored 'rectangle' set on top of two stone blocks penetrates the room and juts out to the outside. Like conceptual art in public spaces, the 'irrational volume with no specific function' and 'unnecessary margins' leave the possibility for flexible use and diversion in an experimental shop where the products handled are not fixed. The products do not blend in with the tensed design considered from the reverse side, which is not unlike the brand, and the contrast between the 'surfaces and lines' as a background and the 'dots' of the products stands out.
The mirrored 'rectangle' is anchored to the upper surface of the stone with anchor bolts and the cantilevered end faces are seal-glued to the glass surface. The detailing is such that it looks as if it continues inside and out, with the glass in between.
In the boundary with the residential area, we tried to make a small incident, moving away from shop-building and commercial interior design theories.