mercibeaucoup, Shibuya Parco

Shibuya, Tokyo
Nov 2019

メルシーボークー、渋谷パルコ
東京 渋谷
Direction: Eri Utsugi
Photo: Mie Morimoto

「在庫の見える店」
メルシーボークー、がたいせつにしている商品や環境のこと、お客様やスタッフへの想いを、どのように表現できるか考えました。光や空気が気持ちよく循環して、スタッフの動きも店舗環境に可視化される、動く什器をつくりました。9つの動くボックスには店内からも見えるように在庫が保管され、什器がスライドして動くたびに「mercibeaucoup,」の文字もあわせて動き、光って回るカンマのロゴと一緒になって、楽しい気分にさせてくれます。杉間伐材の端材を使ったワリバシタイル。亜麻仁油等を含んだオーガニック塗料。再生紙とおがくずからつくられたウッドチップクロス。持続可能な環境にやさしい建材を使ったり、他店舗からの什器の再利用など、「メルシーボークー、のものづくり」の考え方を店舗づくりでも表現しています。「きちんとしているけど、ちょっと笑える。」そんなお店ができました。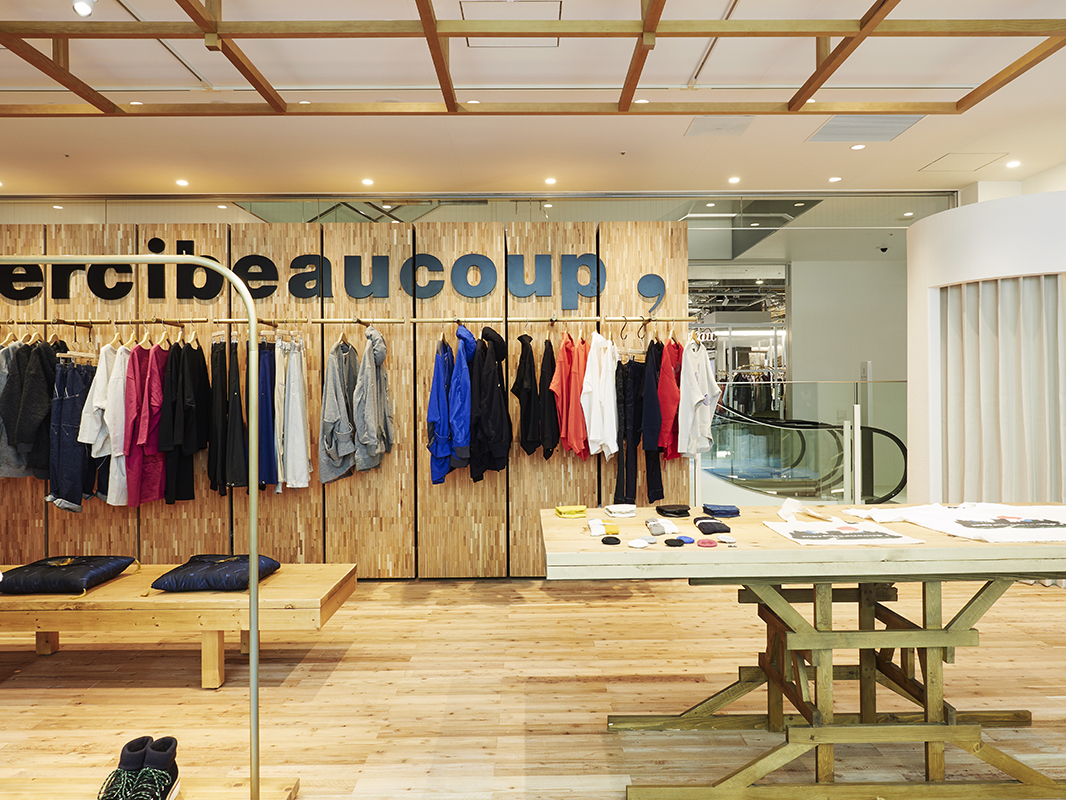 The brand concept is "purely, happily, beautifully. / neat and proper, but with some fun. do have something to say, but never with airs put on. Designer " Eri Utsugi" of mercibeaucoup, cherishes our environment and cares about making their products sustainable. She tries to be a transparent brand and show the process, as like, pattern drawing , which kind of botanical dyes are used, manufacture, even logistics and packaging.
Her line "Mottainai", refers to a traditional Japanese approach to the concept of waste: It's a pity if you waste what is there. This line aims to reduce as much as possible wasted materials, and reuses fabric scraps to make new products.
Her vision is not only directed to customers, but also to their staff and the fashion industry.
We considered how to translate the brand thoughts to the space while making an open and comfortable atmosphere for customers and staff. As well as displaying products in an honest and neat way.

"Sustainable Materials"
Materials where carefully chosen in line with Utsugi's thinking.
The wallpaper is made of natural materials, it contains wood chip and can be re-painted with an organic linseed oil based stucco paint. The movable stock shelves are covered in "Japanese chopsticks" tiles, made from thinned cedar wood. Plus, they add "humor" and "politeness" to the brand.

"Visible Movable Stock Furniture"
The space is located along the escalator in the department store and visibility throughout the shop was one of the requirements. They resolved setting movable sliding furnitures for stock, like the ones used in libraries, instead of making a conventional stock room. When the staff pick up a product, the furnitures slide and split and their stock is shown to the customers. Customers can see that even products in stock are neatly organised, relating to the brand transparency concept.
Also, the movement of the shelves attracts people passing by and create a vibrant atmosphere. Which is also good for the staff, proud to be part of that space.